Internationally seen and exhibited...
"Deborrah Daher – Beautiful work.
Otherworldly with divine inspiration."
handful of salt

A PINCH OF NEWS | Cool Event: Product Porch @ MCA San Diego
Noticed: Deborrah Daher
Posted on
August 14, 2011
by
Regina
...
when it comes to jewelry, we've also seen a lot of industrially influenced work that's just…not quite right.
So when someone designs something that has that refined-raw-industrial look and gets it right, we pay attention.
Case in point, the work of St. Louis-based Deborrah Daher. Deborrah works in gold and oxidized silver to create these chunky, funky, exquisite creations.
Work to love."
read more…
by

FORTHELOVEOFJEWELS

on

FEBRUARY 24, 2008


Meet Deborrah Daher: Extraordinarily Beautiful Work!


by Sally Jewett-Brocato
"I stumbled upon Deborrah Daher's website through the metalcyberspace web directory. I am always searching for interesting work and new ideas and find this directory to be one of the best for showcasing designers. But, when I came to Deborrah's site I was BLOWN AWAY. Her work is truly extraordinary!" read more…

​Art Review - Deborrah Daher
Posted on April 14, 2008 by lovekillmonster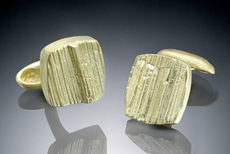 Deborrah Daher is doing something very interesting.
She approaches fine jewelry with an artist's sensibility, creating handmade, rough-hewn pieces balanced with fluidity of form in traditional jewelry categories like cuff links, earrings, brooches, and tuxedo pins. Fine jewelry, mass produced by machines, has the advantages of perfection and ubiquity. But Daher's human touch, with its appealing irregularities bestowed on those same traditional jewelry categories, is comparatively compelling.
Daher's appreciation for nature and dissipative structure result in textures reminiscent of strange, archaeological finds. The artist acknowledges how her background as a painter and ceramicist enables her to create unique jewelry forms, "I am caught by the idea that transcendence can be found in what's common and small, awareness and appreciation can create a mysterious and strange beauty."
Daher's aesthetic sensibility and her eye for fashion converge in a way that is unsettling—and this is what an artist needs to stand out. You don't quite know where to categorize her work. Is it art jewelry, fashion jewelry, or fine craft? The ambiguity is what makes Daher's work so exciting.
(Image credit, Meadow cufflinks in the

Landscape Collection

, by Deborrah Daher)
Love Kill Monster is the fine art studio of Alexis Pierre-Louis
About the artist...
Internationally shown contemporary art jeweler, Deborrah Daher was originally a painter and ceramic artist. Daher fell in love with the art of jewelry making in 1980, bringing with her an appreciation for color and texture. Her jewelry is hand made of precious metals using techniques that include forging, carving, and enamelling. With an unerring eye for balance, she uses silver, shibuichi, and gold, along with pearls, gemstones, and vitreous enamel in her work.